Exercising in a swim spa: Everything you need to know
Install a swim spa in your back garden and you'll never have to miss a swim because you couldn't make it to the pool again.
But you might be wondering if you can really get your laps in using a swim spa or if it's too good to be true.
Here's everything you need to know about exercising in a swim spa – including why it's a triathlete's best friend.
Can a swim spa really replace a trip to the swimming pool?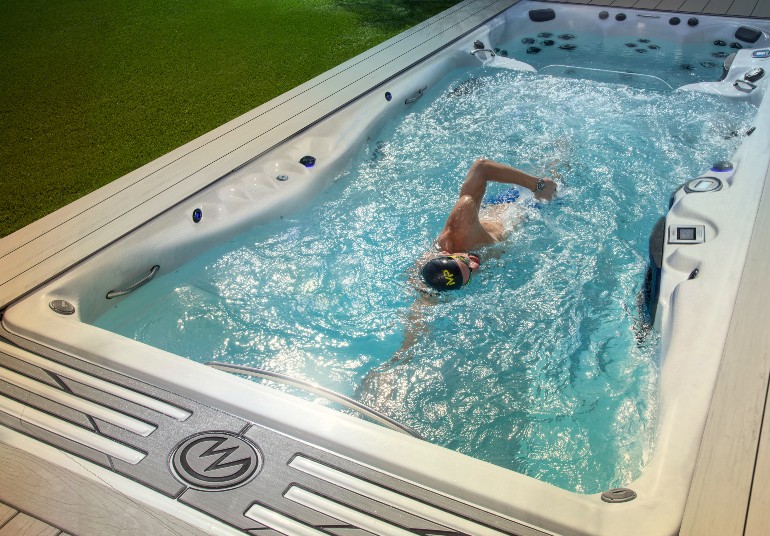 A swim spa is certainly convenient, but can it really replace a trip to the pool?
Just ask Team GB athlete Matt Richards, who won gold in the freestyle relay at the Tokyo 2020 Olympics in almost world record time.
But 18 months before stepping on the plane to Tokyo, Richards was worried about coronavirus lockdowns ruining his Olympic build-up. So, he bought a garden pool to keep on training, attached some bungee cords to the garage wall to hold him in place, and swam for hour after hour in his wetsuit to keep a feel for the water and stay sharp.
Richards's make-shift swim spa is a lot less sophisticated than the models you'll pick up at a WhatSwimSpa? approved retailer, but still propelled him to Olympic gold.
A swim spa can be an incredibly effective training tool even if you have easy access to a swimming pool or somewhere on your doorstep to go for an open water swim. Because its current holds you in place, a swim spa is the perfect place for your coach to analyse your stroke and help you improve it.
Beyond swimming
Of course, a swim spa can be used for a lot more than just swimming. Accessories like dummy oars that transform it into a rowing machine, underwater stationary bikes and treadmills, and waterproof free weights can turn it into a fully-equipped home gym.
Plus, the buoyancy of the water reduces the strain on your joints while you exercise in your swim spa, making it the perfect place to get in a low-impact workout. This can be invaluable if you're looking to keep fit into your golden years, you're recovering from an injury, or if you want to protect yourself from an injury ahead of a race or event.
The swim chamber of a swim spa is also a great place to perform a stretching or calisthenics routine, as the hot water helps warm up your muscles and reduces the strain on your joints.
And when you're done exercising, you can hop straight into the hot tub section of your swim spa for a massage that will help you recover as quickly as possible.
A triathlete's best friend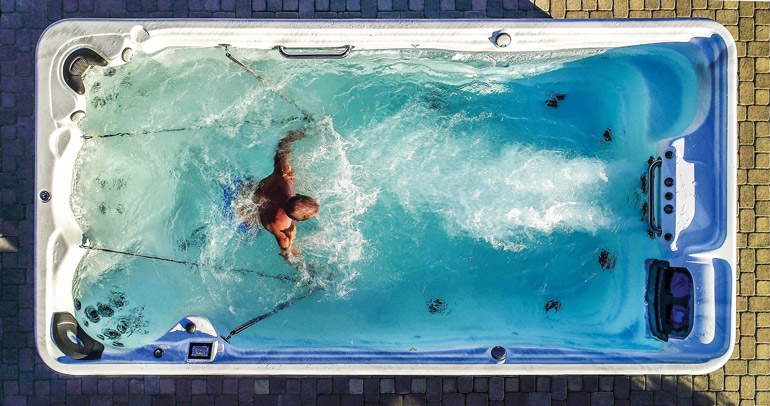 A swim spa is a particularly effective training tool for triathletes. While you can always go on a run or bike ride from your front door, a trip to a swimming pool or an open-water swimming spot can be hard to fit into a busy schedule. A swim spa makes getting your laps in as convenient as a run or bike ride, making it as easy as possible for triathletes to spread their training evenly – even when a trip to the pool is out of the question.
Through accessories like underwater treadmills and exercise bikes, your swim spa can even become your one-stop-shop for triathlon training – all from the comfort of your own back garden. And because exercising in water reduces impact on your joints, it's a great way to stave off injuries and prolong your career as a triathlete
Finding the perfect swim spa for you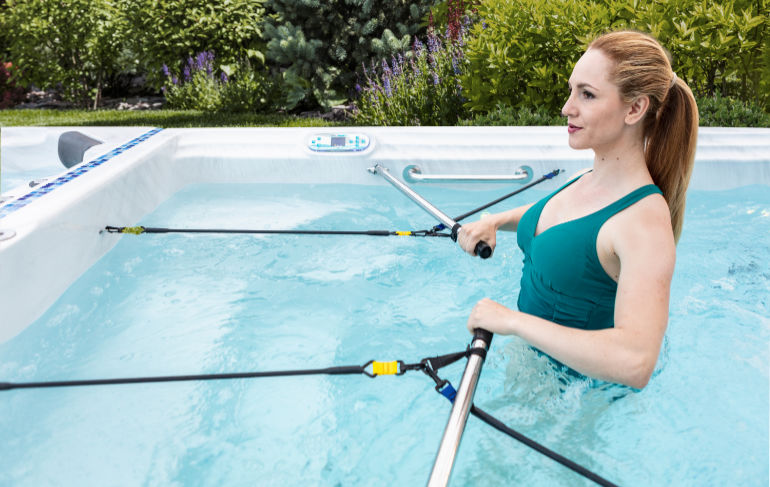 The first choice you need to make when you're pickout out the right swim spa for you is whether to go for a single-chamber or dual-chamber model.
If you'll be the only one using your swim spa, then you'll likely be best suited by one with a single chamber. If other members of your household might be using your swim spa at the same time as you, then you'll be best off going for a dual-chamber model – budget and pace permitting. That way the performance of the swim jets won't be affected if someone hops in the hot tub while you're getting in your laps.
Another important decision to make is whether to go for a swim spa with a flow- or jet-driven propulsion system. This will affect how the current you'll be swimming against is generated, which completely changes how it feels to swim in.
A flow-driven system better replicates the feeling of swimming against the current of the sea, whereas a jet-driven system produces a powerful stream of water that generally makes it easier to find and stay in the "sweet spot". Neither is necessarily better than the other, but they do feel quite different, so it's crucial you wet test both kinds of swim spa to find which you prefer.
More expensive models of both types come with more sophisticated electronics that give you complete control over the stream you swim against, so it's well worth spending a bit more if your budget allows if you're planning on using your swim spa for serious exercise.
Last but not least, it's also important to get to grips with all the accessories and equipment that come along with any swim spa you have your eye on. This is another thing it's crucial to run through as part of a wet test, especially if you've got plans to use your swim spa as a fully-fledged home gym.
Final thoughts
Invest in a swim spa and going for a swim will become as convenient as heading out for a run or a bike ride. Plus, dedicated underwater exercise equipment can transform it into a complete home gym at the bottom of your garden.
And don't be fooled into thinking you won't be able to get a full swim in a swim spa. Instead, head to your nearest WhatSwimSpa? approved retailer and wet test some models to find the perfect match for you. Once you've found one you like you'll be able to slip into your swimming costume and head for a swim absolutely any time – no hassle required.
For help picking out the perfect swim spa for you, be sure to read our swim spa buying guide – as well as grab your free copy of the latest edition of WhatSwimSpa? magazine today.