How much does a swim spa cost?
If you've never owned a swim spa before you might wonder what you should expect to pay for one.
And a quick Google search is likely to leave you scratching your head, since the gulf between the cheapest swim spas on the market and top-of-the-range models are worlds apart – especially when you take landscaping costs into account.
Whatever you're looking to spend, read on to discover how swim spa pricing works and how to make sure you're not overpaying for bells and whistles you don't need – or skimping in areas you'll live to regret cutting corners on.
How much do swim spas usually cost?
A new swim spa will cost you anywhere from £10,000 to £40,000.
Of course, a swim spa's price tag is only part of the story, and a more expensive model might actually save you money in the long run.
The main reason for that is premium swim spas often have far more efficient components and insulation, meaning they tend to cost a lot less to run.
Plus, higher quality parts are less likely to break down, meaning you're a lot less likely to have to cough up for repairs over a top-of-the-range swim spa's lifespan or replace it early.
Last but not least, a quality swim spa from a premium brand will retain its resale value better than a cheap and cheerful alternative, meaning you're more likely to recoup some of its costs when you replace it.
All these factors mean that paying for a premium model might work out as the more cost-effective choice in the long-run.
If you're looking for a budget option, a second-hand swim spa will only put you back a few thousands pounds. However, you obviously won't get as many years of use out of it – and you'll have to pay just as much to have it delivered and installed as you would for a brand new model.
Swim spa price factors
There's a huge price difference between the cheapest and most expensive swim spas on the market.
Here's a rundown of what separates budget swim spas from their top-of-the-range counterparts so you can get an idea of what you get for your money:
Portable or in-ground
The biggest factor in a swim spa's price tag is whether it's a portable or in-ground model.
A portable swim spa is fully contained in a cabinet, like a hot tub. It simply needs placing on a solid base, connecting to a power supply, and filling with water.
An in-ground swim spa is a shell that needs to be installed in the ground itself, like a swimming pool. It's electronics are usually installed in an outbuilding and connected to the pool sections through underground wires.
While an in-ground swim spa is the larger and more luxurious of the two options, you'll need to have your garden excavated and landscaped to have one installed, which obviously significantly increases the installation cost.
If you're on a budget, go for a portable model, which will give you a much bigger bang for your buck. But if you can afford it, an in-ground model is the last word in luxury.
Single- or dual-chamber
Another important factor on a swim spa's price tag is whether it's a single- or dual-chamber swim spa.
Single-chamber swim spas are the more affordable option, as their hot tub and swimming section are both contained in the same chamber of water. Electronics like the heating and filtration system are the most expensive components of a swim spa, and single-chamber models only need one set of these, keeping the production costs down.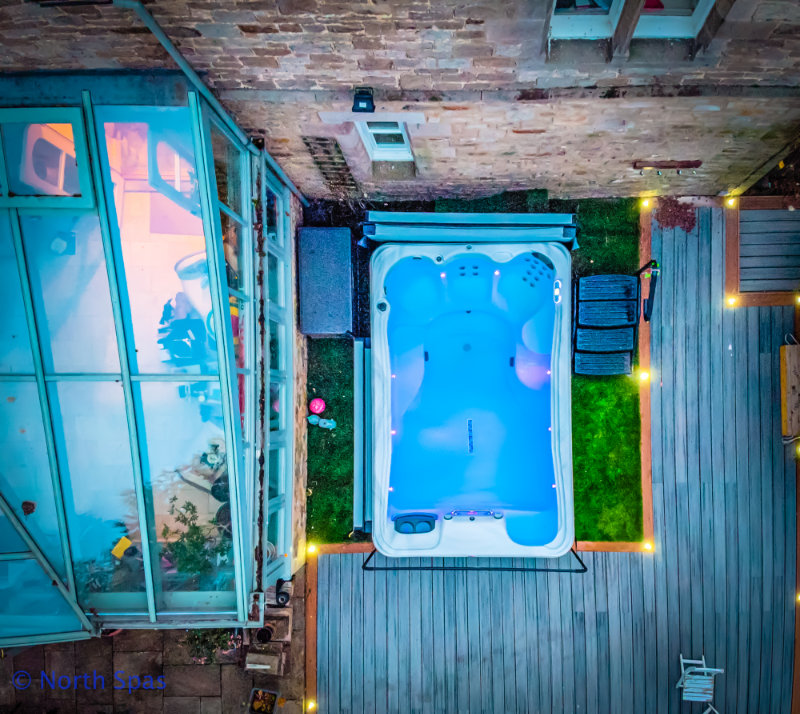 However, this does affect single-chamber swim spas' performance, as the same equipment powers the hot tub jets and produces the current for you to swim against. This effectively means they can't both be used at once.
Plus, the water is the same temperature across the whole chamber, meaning you'll have to increase it and wait for it to heat up before using the hot tub and cool it back down before you can swim.
Dual-chamber swim spas, on the other hand, have separate hot tub and swimming sections with their own electronics and heating systems.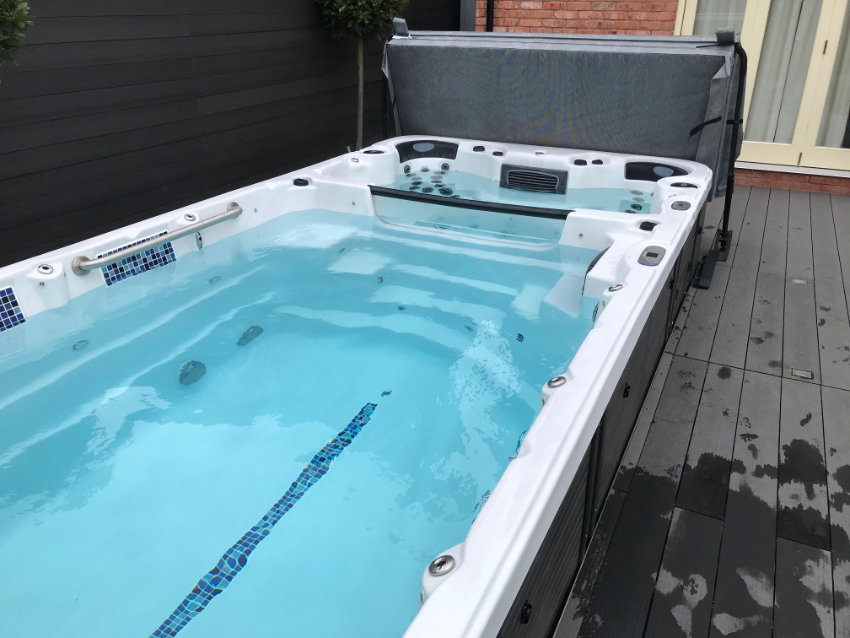 This means they're quite a bit more expensive, but both chambers can be kept at different temperatures and the hot tub and swim jets can be run at full power at the same time.
If you're not planning on using both the swimming area and hot tub at the same time very often, then a great way to reduce the cost of your swim spa is to go for a single-chamber model.
However, you're likely to regret trying to cut costs in this area if you're expecting to regularly have lots of people in your swim spa at once and always want the option of using both of its functions together.
The brand
As with any other purchase, you'll pay a premium for a swim spa from a big brand. In exchange for paying that premium, you'll get the peace of mind that you're not taking a chance on a no-name manufacturer. Plus, spare parts are going to be easier to come by if you ever need them than if you opt for a swim spa from an obscure manufacturer.
Of course, the swim spa from the biggest brand might not necessarily be the best fit for your needs – and you might get a better bang for your buck with a challenger brand.
To ensure you're striking the right balance between blindly buying a swim spa from the biggest brand name and ending up with a cheap grey import from an unscrupulous manufacturer cutting corners to make a quick buck, make sure you stick with WhatSwimSpa? recommended brands. These are all tried-and-tested manufacturers, and you really can't go wrong with any of their swim spas.
Build quality
The higher quality a swim spa's components are, the longer it's likely to last and the cheaper it's likely to be to run.
Unfortunately, unscrupulous manufacturers often cut corners below the surface of their swim spas, so it's crucial that you take a good look behind a swim spa's panels before you think about reaching for your credit card.
Once you've picked out a swim spa you like the look of, ask one of the showroom staff to remove a panel and walk you through each of these aspects so you can check them yourself before you buy:
The inner-frame
If you want a swim spa that's built to last, it's essential you buy one with a galvanised or stainless steel inner-frame.
Cheap imports you might find online for prices that seem too good to be true often have frames made of cheap, untreated metalwork that will corrode after just a few years.
The insulation
A swim spa's insulation has a huge impact on its running costs.
To keep your electricity bills down, go for a model with a "fully-foamed" cabinet if you're in the market for a portable swim spa. This means it will have a thick layer of high-density foam everywhere apart from around the control panel, where maintenance access is required.
A 'fully-foamed' swim spa is also less likely to develop a leak, as the foam insulation holds the pipes in place so they don't rock and vibrate when the jets are turned on and off.
So, be sure to peer behind a panel to get a peek of how thoroughly insulated a swim spa you have your eye on is.
The cabinet
Cheap swim spas often have softwood cabinets that look the part but quickly rot. So, make sure a swim spa's cabinet is made from treated timber or a synthetic alternative.
Be sure to check that the floor of the inside of your swim spa is covered by a waterproof membrane as well, as this will prevent damp from rising up the cabinet.
The cover
To test whether a swim spa's cover is trapping in heat as effectively as possible, place your hand on the top of it in the showroom. If it's room temperature that's a great sign – if it's hot, that means it's leaking heat and will cost you an arm and a leg in electricity bills.
The best swim spa covers create an airtight seal when they're on and have lockable clips that keep them held in place no matter what the weather throws at it.
It's well worth investing in a quality cover – and avoiding swim spas that have poorly-made or ill-fitting covers that can't be replaced. This extra upfront investment could drastically reduce your swim spa's running costs over its lifetime.
A swim spa's inner-frame, insulation, cabinet, and cover have a huge impact on how many years you'll get from it – as well as how much it will cost to run over those years.
And the only way to ensure you're walking away with a swim spa that's built to a high standard with quality parts is to go to a showroom and take a look for yourself. That's why you should never buy a swim spa sight unseen from an online store, as you can easily get stung by a misleading product description and find yourself thousands of pounds out of pocket.
So, be sure to head to a WhatSwimSpa? approved dealership, where the staff will be happy to walk you through the swim spas they have in stock in detail so you can be sure you're getting a great model for the money.
Features
As with any big ticket item, top-of-the-range swim spas come with all kinds of bells and whistles, from exterior lighting options to mobile apps that let you control the settings remotely.
To help you know what to look out for, here are a handful of features that are often well worth splashing out on if they're within your budget:
Built-in water treatment devices
Top-of-the-line swim spas often come with built-in water treatment devices that treat its water with chemicals automatically, reducing the amount of time you'll have to spend maintaining your swim spa's pH levels.
Keep an eye out for models with ozone generators and UV systems, both of which kill bacteria on a chemical level, helping keep the water clean.
Some swim spas also come with built-in devices that steadily release small amounts of chlorine or bromine so you don't have to top its chemicals up by hand.
The control panel
Top-of-the-line swim spas have control panels that let you set flow rates, so everyone can dial in their 'sweet spot' then get it back with the click of a button.
This can be well worth splashing out on if multiple people in your household are going to be swimming in your swim spa.
The lighting
Most swim spas have LED lighting in their shell, but premium models often come with backlit pillows and jets that create even more ambiance, as well as exterior lighting that really comes in handy when you're hopping in and out of your spa in the dark.
Multimedia options
The latest and greatest swim spas come with built-in bluetooth speaker systems you can play your favourite playlists through. Some swim spas even come with a smart TV you can sit back and watch Netflix on in style during a soak.
Fitness equipment and accessories
You can transform your swim spa into an aquatic home gym using the fitness accessories most manufacturers offer.
Waistbands and elastic cords allow you to swim in your spa, dummy oars transform it into a rowing machine, and underwater stationary bikes, treadmills, and free weights allow you to get in a low-impact full-body workout.
Of course, these accessories all add on to the price tag. So, be sure to head to a WhatSwimSpa? approved retailer to wet test all the equipment you're thinking of buying to make sure you enjoy using it before you splash the cash on it.
Delivery and installation
Last but not least, be sure to factor the cost of delivery and installation into the cost of your swim spa.
Because even the smallest of swim spas will need to be lifted into place by a crane, installation will set you back at least a few hundred pounds. If you opt for an in-ground swim spa and need landscaping work done, the delivery and installation will more than likely cost thousands.
This is why it often pays to go premium when it comes to a swim spa, as you'll have to go through the expense and inconvenience of having another installed if a cheap model needs replacing after just a few years.
Getting a deal on a swim spa
Swim spa dealerships are often open to negotiate on the price of models and sweeten the deal with some added extras.
If you're thinking about buying a top-end swim spa from a dealer and using them for delivery, installation, and landscaping, they're likely to be open to throwing in some added extras. Spare filters, extra chemical supplies, additional exercise equipment, and an extended warranty are all good points to bargain over when you're trying to strike a deal.
You can also scoop up a bargain if you pick up an ex-display model or one from an outdated line the dealership is looking to shift. New swim spa models are released between Christmas and April in advance of the summer rush. So, as long as you don't mind not having all the cutting edge features, it's well worth heading to the retailers then on the off chance you'll stumble on a bargain.
Picking the perfect swim spa
Want help finding the best swim spa for your budget? Get your free copy of the latest edition of WhatSwimSpa? today for expert advice on getting a great model at a fair price, as well as our shortlist of the best swim spas across every price range with the WhatSwimSpa? Best Buy Awards.