Single Vs Dual Chamber Swim Spas
One of the biggest decisions you'll make when you're buying a swim spa is whether to opt for a single- or dual-chamber model.
In this article, WhatSwimSpa? Editor-in-Chief Nick Clamp explains the merits of each option and walks through which might be best for you.
Single-chamber swim spas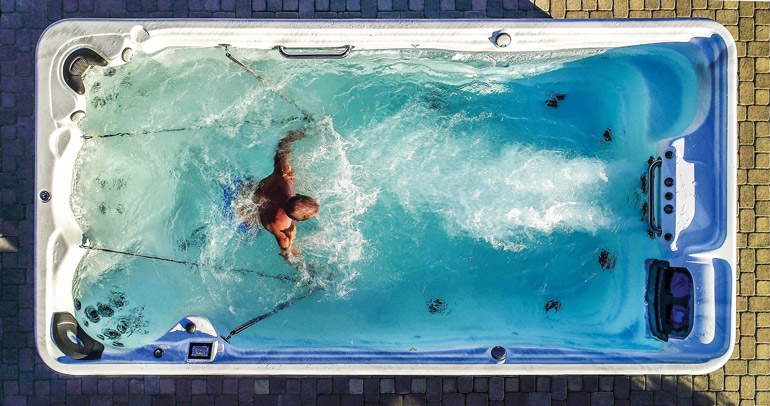 As the name suggests, both the swimming area and the hot tub are contained in the same body of water of a single-chamber swim spa.
This means these models only need a single set of expensive circulation, filtration, heating and treatment equipment, making them quite a bit cheaper than their dual-chamber equivalents.
A single-chamber swim spa is also a great option if you're a bit tighter on space, as they start at around 12 feet long.
And some of the best swim experiences can be found in single-chamber models, as their designs aren't compromised by trying to fit in extra hydrotherapy seats. Most also feature moulded spa seating at the opposite end to the swim jets where you can enjoy a post-swim hydrotherapy massage.
However, because power and flow is diverted between the hot tub jets and swim propulsion system in a single-chamber swim spa, neither can operate at full capacity when the other is on. This means it might not be the ideal option if you'd like to use both functionalities at once.
Because they're contained in the same body of water, the hot tub and swimming area are always the same temperature as each other. This means they can't be used as well simultaneously, because you'll generally want a much higher temperature while you're soaking in your hot tub (36°C – 39°C for most people) than when you're swimming (usually 25°C – 29°C).
You'll therefore have to raise the temperature of the entire body of water when you want to relax in the hot tub section and then lower it again when you want a more conventional swim temperature. This temperature adjustment can take a good few hours, so if you're looking to enjoy the swimming area and the hot tub together then a dual-chamber model – or a single-chamber swim spa and a separate hot tub – will be the right option for you.
Dual-chamber swim spas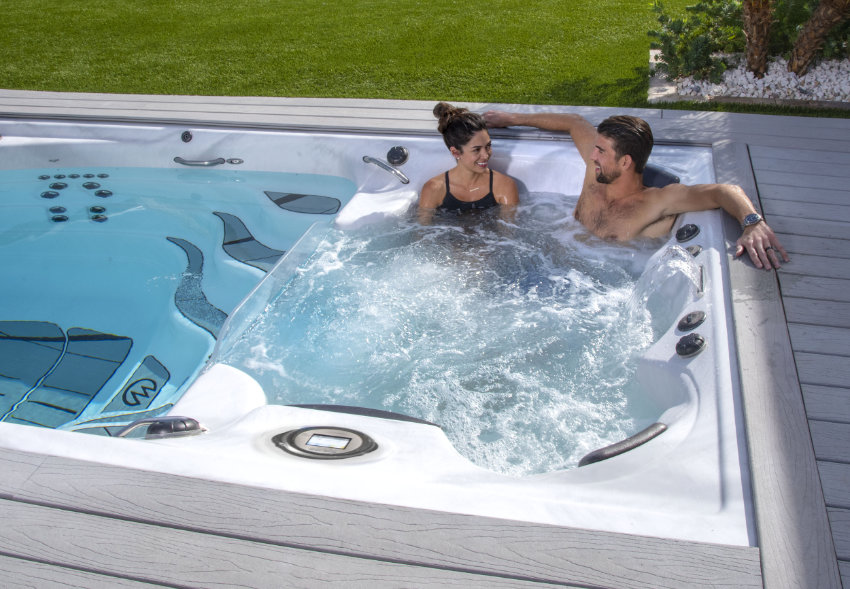 The swimming area and hot tub of dual-chamber swim spas are two self-contained bodies of water with their own separate sets of equipment and heating.
This means you can maintain the swimming area at the ideal temperature for swimming and the hot tub at the perfect temperature for a soak. Plus, the hot tub and the swim jets can both be operated at full power simultaneously.
And because the hot tub is contained in its own section of the spa, anyone enjoying a soak won't be disrupted by the splashing and turbulent water created by whoever is swimming in the swim chamber.
The downside of a dual-chamber swim spa is that because they have twice the amount of expensive electronics, they cost considerably more to manufacture – meaning one will set you back quite a bit more than you can expect to pay for a single-chamber model.
They're also typically longer than their single-chamber equivalents, with models starting at around 16 feet long.
You'll also need a larger outdoor electrical supply to power both sets of pumps and heaters, which you may have to have specifically installed at an extra expense.
Which is best for you?
Of course, the right swim spa for you depends on you and your family's needs.
You might be looking for a swim spa you can use to train for a triathlon, in which case a single-chamber model specifically designed for a rigorous swimming schedule would be your best bet.
But that would be far from the best option if you're looking for a hot tub to relax in at the end of each day with a swimming section you can enjoy the occasional swim in.
There's a huge range of swim spas available, from models you can transform into a fully-equipped hydrotherapy gym to large party pools with bench seating around their entire interior you can entertain plenty of guests in.
So, think carefully about how you'll be using your swim spa before you start your search to make sure you're getting the perfect swim spa for you. And be sure not to compromise on the areas that will impact how much you'll enjoy using it every day for features you'll use once in a blue moon – whether that's a large hot tub section or a swim section fit for an athlete.
Trying before you buy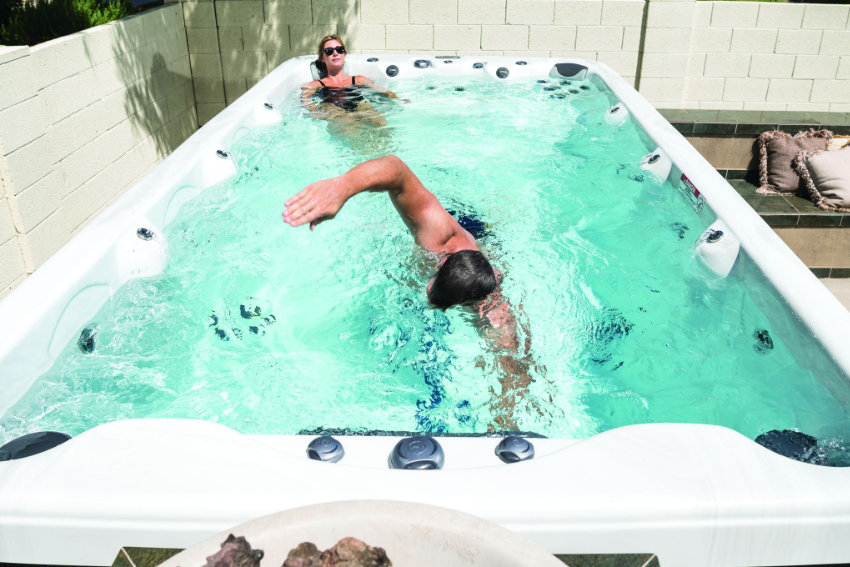 As you can see, there are clear differences between single- and dual-chamber swim spas.
But the only thing that will help you know which is the ideal interior layout for you is to try before you buy.
So, round up your family, grab your bathing suits, and head to a WhatSwimSpa? approved dealership. When you arrive, you'll find private test swim facilities and changing rooms you can use to take both kinds of swim spa for a spin.
You'll quickly find that getting hands-on with each option is a totally different experience to comparing specifications online.
Be sure to get showroom staff to walk you through the features of a number of dual- and single-chamber swim spas then put them through their paces.
Pay particular attention to whether:
Each model is a good fit for you and your family's needs and swimming abilities.
There's ample room for the number of people you're planning on regularly having in the hot tub section.
The hot tub jets provide a good massage – even when the swim jets are on.
The swimming area is big enough to allow the largest person to swim without any danger of hitting the sides.
The 'sweet spot' of the swimming section's current is easy to find, and you can comfortably maintain a steady position like a jogger on a treadmill.
The controls of both the hot tub and the swimming section are easy to reach and intuitive to use.
It comes with all the fitness equipment you'd be interested in using, whether that's swimming cables to faux ores to underwater exercise bikes.
Thoroughly testing a handful of both single- and dual-chamber swim spas will help you quickly get clear on which type best suits your needs.
Be sure that you don't skip this step if you want a swim spa that fits your exact needs.
A good alternative: A separate swim spa and hot tub
If you can't quite find a swim spa that ticks every box for you during your wet tests, a good alternative is to buy a single chamber swim spa that suits your swimming abilities perfectly and then purchase a separate hot tub. Then when you've finished your workout, you can simply hop across to your separate hot tub and instantly enjoy a restorative soak.
Buying a separate single-chamber training pool and hot tub will cost a bit more than a dual-chamber swim spa, but it's often the best option if you're after a swim spa designed for a serious training regime as well as a hot tub you can relax in whenever you want.
It can also be a good option if, due to the layout of your property, you have space for two smaller home spas but not one larger unit.
And because swim spa dealerships always carry hot tubs, you can wet test and buy them from the same WhatSwimSpa? Approved retailer. 
The final verdict
At the end of the day, it's not a case of single-chamber swim spas being superior to dual-chamber models or the other way round.
Each brings its own set of features to the table, so the best option for you depends on you and your family's needs.
A single-chamber swim spa is a great option if you're looking for the best possible swimming experience and you're not planning on using both the swimming area and hot tub at the same time very often.
A dual-chamber model will probably be your best bet if you're expecting to regularly have several people use your swim spa at once and always want the option of using both of its functionalities together.
Whichever option is right for you, be sure to make your choice based on thorough wet testing in a reputable swim spa dealership.
For help picking out the perfect swim spa for you, be sure to read our swim spa buying guide – as well as grab your free copy of the latest edition of WhatSwimSpa? magazine today.