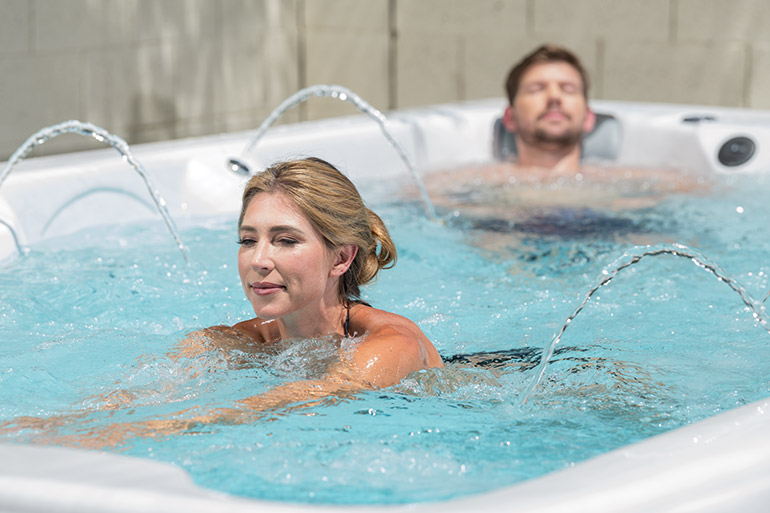 It can be hard to know where to even start your search for the ideal swim spa if you've never bought one before.
In this guide, we'll walk you through everything you need to know if you're thinking about buying a swim spa – from what to look out for during your research through to how to get the best deal from the retailer.
Keep all this advice in mind when you're shopping for your new swim spa and you'll be sure to get the perfect model to go on the plot you've set aside on your property.
First steps
Keep these tips in mind to make sure you start your search for the perfect swim spa on the right foot.
Measure up
First things first: grab the tape measure and find out how much space you have to play with.
With the best will in the world, you're not going to be able to fit a swim spa that's too big into the plot you've set aside on your property – even if you've fallen in love with it.
Measure up the area you're looking to put your swim spa in before you start your search so you don't get your heart set on a model that's not going to fit.
Then you can discount swim spas that will be too big at the start of your search, helping you narrow down your options from the off.
Find a reputable local retailer
We strongly recommend you buy from a WhatSwimSpa? approved retailer rather than chancing your arm with an online store or auction site.
If the business you buy your swim spa from goes under, your warranty and any aftercare will go with it. Plus, a botched installation by a cowboy company can cause major headaches, cost you a pretty penny to put right, and even put you and family in harm's way.
Look out for retailers that are WhatSwimSpa? approved and have a BISHTA (The British and Irish and Hot Tubs Association) or SPATA (The Swimming Pool and Allied Trade Association) membership. If a dealership has gone to the trouble of meeting the stringent requirements to comply with these standards, it's a good sign that they're a quality company that will be around for the long run.
Once you've settled on a few reputable local dealerships to visit to test out some spas, research the brands those retailers stock so you can go do some preliminary research and arrive with an idea of what you want.
Picking the perfect swim spa for you
Swim spas come in a range of types, sizes, and price points and with a whole host of accessories and optional extras.
It can be hard to know where to even start if you've never bought one before.
Here's everything you need to know to pick the right model for you.
Portable or in-ground
The first choice you need to make when you're weighing up which swim spa is right for you is whether you want a portable or in-ground model.
A portable swim spa is a self-contained and standalone unit that looks like a very large hot tub. They sit on the ground, but can also be lowered into a recessed base to make it easier to get in and out.
Portable swim spas simply need placing on a suitable base, connecting to a power supply, and filling with water.
However, their name is somewhat misleading – you'll still need a crane to move a portable swim spa. You will be able to take it with you if you move home or even have it moved to a different part of your garden later down the line if you want to though.
An in-ground swim spa is a shell that needs to be installed in a back-filled excavation, just like a swimming pool. It's electronics are usually held in an outbuilding and connected to the pool sections underground.
This means you can't take an in-ground swim spa with you if you move or easily relocate it on your property.
Some in-ground swim spas come with the option of having their acrylic shell tiled in glass or ceramic mosaic for an opulent finish.
You can also get large, modular swim spas that are delivered in separate sections and assembled on-site. These look like portable swim spas and sit above ground level, but for all intents and purposes are permanent fixtures.
Both kinds of swim spa allow you to get in a swim and enjoy a soak in a hot tub in your own garden.
A portable swim spa fits into a smaller space, is generally less expensive, and can come with you if you move home. An in-ground swim spa is larger and more luxurious, but will require some landscaping to install, meaning it will tend to cost more and will be a permanent fixture on your property.
Single-chamber or dual-chamber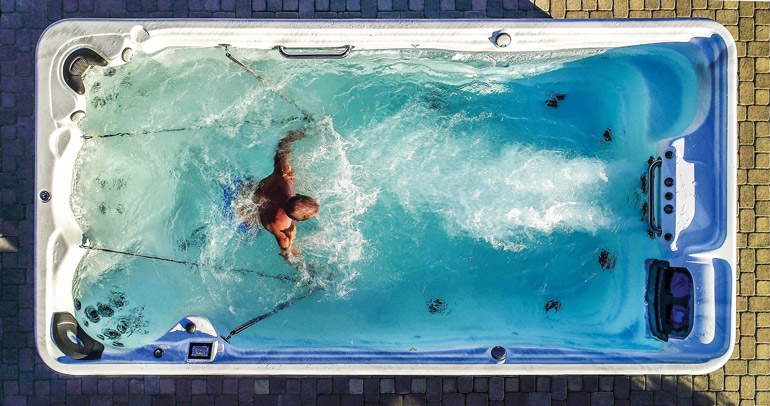 Perhaps the feature that makes the biggest difference in your swim spa's performance is whether you opt for a single- or dual-chamber swim spa.
Both the swimming area and hot tub seating area are contained in the same body of water in a single-chamber swim spa.
These swim spas are generally quite a bit cheaper than their dual-chamber counterparts, as they only have one set of expensive circulation, filtration, heating, and treatment equipment, drastically reducing production costs for the manufacturer.
However, this means power and flow is diverted between the hot tub jets and swim propulsion system, meaning neither will be able to operate at full capacity when the other is on.
Because they're contained in the same body of water, the hot tub and swimming area are always the same temperature as each other. This means they can't be used as well simultaneously, because you'll generally want a much higher temperature while you're soaking in your hot tub than when you're swimming.
The hot tub and swimming area of a dual-chamber swim spa, on the other hand, are their own independent sections with their own electronics and heating systems.
This means they can be kept at different temperatures and both the hot tub and swim jets can be run at full power at the same time.
However, because it has double the amount of expensive electronics, you can expect to pay quite a bit more for a dual-chamber model. You'll also need a larger outdoor electrical supply to power both sets of pumps and heaters, which you may have to have specifically installed.
A single-chamber swim spa is a great option if you're not planning on using both the swimming area and hot tub at the same time very often. A dual-chamber model is probably the way to go if you're expecting to have lots of people in your swim spa at once and always want the option of using both of its functionalities together.
The propulsion system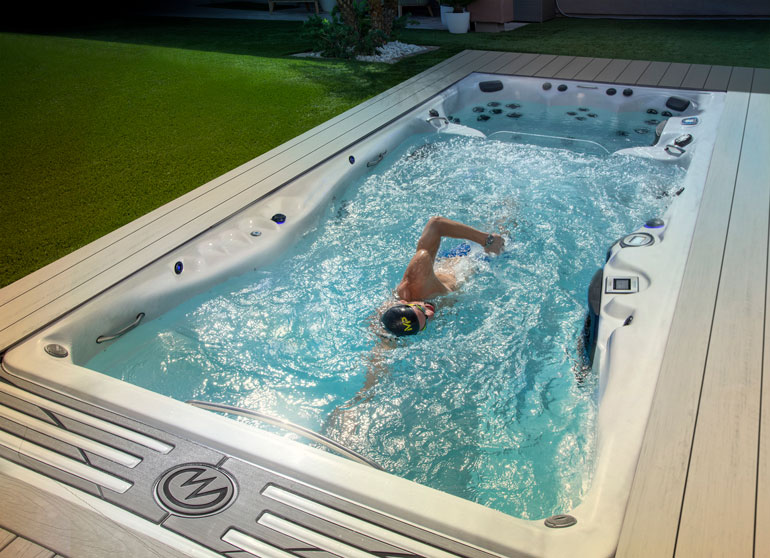 A swim spa's propulsion system is one of its most important features, as it's what produces the current for you to swim against.
Both portable and in-built swim spas come with different systems: jet propulsion or flow-driven.
More expensive models of both types come with more sophisticated electronics that give you complete control over the stream you swim against. This allows you to adjust it to suit the exact needs of everyone who'll be using the swim spa.
Pressure-driven or jet-driven systems
The current in swim spas with pressure-driven or jet-driven systems is generated by one or more high-output pumps installed at one end of the swim chamber.
Water is drawn into these pumps from the footwell – to avoid the drop in pressure caused when it's inducted through filters – then pumped under pressure through the jets to create a current.
Multi-jet systems can usually be controlled to deliver streams in different widths and depths so you can get the exact current you like. Some manufacturers produce oval jets that mimic the wider flow depths associated with propeller-driven systems.
Also, look out for swim spas with jets located low down in the swim chamber and angled up to aid buoyancy and help you maintain the 'sweet spot'.
Flow-driven or volume-driven systems
In contrast to a jet-driven system, which creates a current by moving a small amount of water at high pressure, a flow-driven or volume-driven system moves a high volume of water at low pressure.
The current is produced by a propeller attached to a powerful electric motor and encased in a grille. Suction grilles are also placed around the swim chamber to feed the vast quantities of water into the system.
This produces a deeper and wider swim pattern that's closer to the experience of swimming against the current of the sea. These swim spas' 'sweet spot' tends to be larger and easier to find, but the current generally isn't as strong.
Neither jet propulsion or flow-driven systems are necessarily better than the other – it's more of a case of personal preference. It's therefore crucial to wet test a number of different models to see which kind of propulsion system you prefer and which best meets your whole family's needs.
Inner-frame
The inner-frame of your swim spa needs to support between 10 and 15 tonnes when it's at full capacity, so it's essential that you opt for a model with a quality frame that's made of galvanised or stainless steel.
Unscrupulous manufacturers often cut corners below the surface of their swim spas, and the frame is a prime candidate for cheap materials and poor workmanship. Cheap imports you might find online often have frames made of untreated metalwork that is bound to corrode after just a few years of use.
The floor of the inside of your swim spa should also be protected by a waterproof membrane or material that prevents damp from permeating up the cabinet.
Avoid being lumped with a swim spa you'll have to replace in just a few years by buying it through a WhatSwimSpa? approved dealership. Be sure to ask the showroom staff about the materials used in the swim spa's interior and get them to remove a side panel from the cabinet so you can inspect the interior yourself.
Insulation
A portable swim spa's insulation is one of the biggest factors in how much it costs to run.
The most efficient models are fully insulated with high-quality foam everywhere apart from around the control panel, where maintenance access is required.
'Fully-foamed' swim spas are also less prone to leaks, as the insulation helps keep the pipes in place when the jets are turned on and off.
Be sure to ask showroom staff about how a model you have your eye on is insulated and get a look for yourself when you peer behind a panel.
The cabinet
If you opt for a portable swim spa, make sure its cabinet is made from treated timber or a synthetic alternative.
Cheap imports often have softwood cabinets that look the part but quickly rot, as they aren't impervious to damp.
Opt for a portable swim spa with a hardwood cabinet and you'll need to treat the timber regularly to keep it looking good and protected from the elements. One with a cabinet made from a synthetic material won't need maintaining at all and can simply be wiped down to keep it looking its best.
The cover
A fully-insulated and well-fitted cover will have a huge impact on your spa's running costs.
The sign of a good swim spa cover is that its surface is the ambient temperature when you place your hand on it, as this shows that it's effectively trapping the heat in. So, be sure to test this out in the showroom.
And perhaps most importantly of all, make sure the cover provides an ait-tight seal when it's on, or else your money will be going up in steam every day.
The best hot tub covers also have lockable clips. These help ensure a tight seal, stop the wind from blowing the cover off, and give you the peace of mind that unsupervised children won't be able to get into your swim spa.
Because they're so large, the cover of portable swim spas usually comes in three or four detachable sections, so be sure to account for room to store them when you're in the water.
In-ground swim spas either come with sectional covers or the kind of roller cover you'll find on a swimming pool.
It's well worth investing in a quality cover – and avoiding swim spas that have poorly-made or ill-fitting covers. This extra upfront investment could drastically reduce your swim spa's running costs over its lifetime.
Control panel
Controls that aren't intuitive to use or are hard to access when you're swimming will really affect how enjoyable your swim spa is to use – and therefore how likely you are to use it.
The more options you have when it comes to your swim spa's current, the more complicated the control panel will tend to be.
Top-of-the-line models let you set the flow rate, so everyone can find their 'sweet spot' and quickly find it again by simply adjusting the settings to their taste.
When you're wet testing swim spas, be sure to get the showroom staff to walk you through the controls and run them through their paces. It's well worth paying particular attention to how easy they are to access and how much control they give you over the swimming area's current.
Water treatment system
The better a swim spa's water treatment system, the less you'll have to worry about maintaining the water and cleaning your spa.
Filtration
A swim spa's filtration system has the biggest impact on how hands-on you'll have to be about maintaining its water quality.
The better a model filters water, the less you'll have to add chemicals to keep it clean and the less often you'll have to completely drain and deep clean your spa.
There are two kinds of swim spa filtration systems: cartridge filtration, which is commonly found in portable swim spas, and sand filtration, which is typically found in in-ground models.
Neither is necessarily better than the other. But the size of the filters and the number of them has a huge impact on a swim spa's ability to automatically regulate its water quality.
Look for swim spas with a minimum of 100 sq ft of filter area per cartridge or 20" tank per sand filter. The more filter capacity a swim spa has above this threshold, the less maintenance will be required to keep the water clean.
Built-in water treatment devices
Top-of-the-line swim spas often come with built-in devices that treat the water automatically, reducing maintenance time even further.
Keep an eye out for models with ozone generators and UV systems, both of which kill bacteria on a chemical level, helping keep the water clean.
Some swim spas also come with built-in devices that steadily release small amounts of chlorine or bromine so you don't have to top those chemicals up by hand.
Fitness accessories
Your swim spa is a great place to do exercises of all kinds, as the water's buoyancy reduces the impact on the joints. This makes it the ideal way to keep fit for anyone suffering from joint pain or arthritis.
You can even transform your swim spa into an aquatic multi-gym, depending on what fitness accessories the manufacturer offers.
Waistbands and elastic cords allow you to swim in your spa, dummy oars transform it into a rowing machine, and you can even get underwater stationary bikes and treadmills for a low-impact workout.
The swimming area is also a great place to do weight training and calisthenics – no specialist equipment required.
Each manufacturer offers different fitness equipment, so be sure to try them all out during a test to see which brand's you prefer.
Lighting and waterfalls
Lighting is not only a handy safety feature for after-dark soaks, but also adds ambiance to your hot tub at any time of day.
Most swim spas have LED lighting in their shell that can either scroll through the colour spectrum or be set to your favourite hue.
Top-of-the-line models often come with backlit pillows and jets, as well as exterior lighting that really comes in handy when you're hopping in and out of your spa in the dark.
Some models even come with waterfalls that complete the at-home spa experience when you're luxuriating in your hot tub.
Multimedia options
The last thing to look out for when you're shopping for a swim spa are the multimedia options.
The latest and greatest models come with built-in speaker systems you can play your favourite playlists through via bluetooth. Some swim spas even come with TV and blu-ray systems you can use to watch your favourite shows and movies in style while you're soaking in your home spa.
Trying before you buy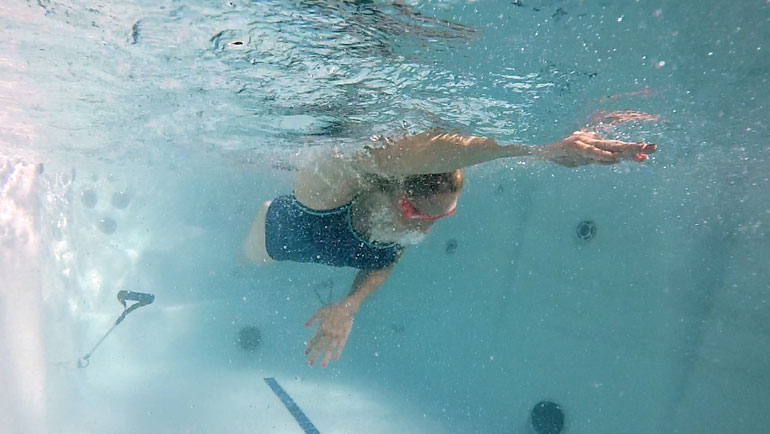 Never consider buying a swim spa without wet testing it first.
It's a big expense, so you need to make sure you're getting one that's perfect for you and your family before you take the plunge.
So, grab your bathing suit and head to WhatSwimSpa? approved dealership, which will have private test swim facilities and changing rooms you can use to take the models you've got your eye on for a spin.
Just like any other major purchase like a car, always try out multiple models. It's one thing comparing specs online, but a totally different experience getting hands-on with each option.
If you're heading to different dealerships to test out spas, try and arrange your visits as close together as possible so the experience of each model is fresh in your mind.
And allow for at least two hours in each showroom to give you enough time to try out a number of spas.
Getting the most from your swim spa test
Ensure you're getting the right swim spa for your needs by taking your whole family along to the test – especially if kids are going to be using it, as they might need a much weaker current to safely swim against.
Once you're in the swim spa, get the showroom staff to show you how everything works so you've got a good idea of its capabilities.
Then ask them to leave you to play around with it yourself so you can get a feel for exactly what it can do and whether it's what you're looking for.
Testing the hot tub
A few things to consider when you're testing the hot tub section of a swim spa are:
Does it feel like there's ample room for the amount of people you're planning on regularly having in the hot tub?
Are the seats comfy?
Do the jets provide a good massage?
Is there a variety of seat depths so people can be as submerged as they like and take breathers in shallower areas when needed?
Is the lighting and multimedia options, like speakers and a TV, high-quality and easy to use?
If you're testing a single-chamber swim spa, be sure to see how much the swimjets take away from the spa seats when they're turned on.
Testing the swimming area
It's well worth keeping these things in mind when you're testing the swimming area:
Is it deep enough to suit the people who'll be using it to train?
Is it large enough to allow the largest person to do every swim stroke without any danger of hitting the sides?
If you're going to be teaching a young swimmer in your spa, is there enough room for an adult to stand beside them?
Is the 'sweet spot' of the current easy to find, and can you maintain a steady position like a jogger on a treadmill?
Is the stream created by the swim jets wide enough for you to swim in and allow you to maintain even strokes without forcing you under the stream?
Does the power output suit the needs of everyone who'll be using it?
Are the controls easy to reach and intuitive to use?
If you're a serious athlete or very strong swimmer, you should be sure to check the current is strong enough to meet your needs. And if young children or elderly people are going to be using the spa to swim as well you should make sure the stream can go gentle enough for them.
Try the fitness accessories
Ask the showroom staff how to install and use any accessories you'd be interested in taking for spin, including resistance straps, rowing bars, and underwater treadmills and exercise bikes.
Pay attention to how easy they are to set up, as well as whether they're comfortable to use and suit your particular needs.
Test the lighting and multimedia systems
Get the showroom staff to dim the lights so you can test each swim spa's lighting, especially if you're planning on enjoying evening soaks as often as you can.
If a model you have your eye on has built-in bluetooth speakers or a TV, be sure to test those as well to find out whether they'd be for you. Pay particular attention to how well they work over the noise of the hot tub jets.
Swim spa buying tips
You've picked the perfect swim spa for you and your family, and now you're ready to take the plunge and put down the cash.
Here's everything you need to consider before buying a swim spa – and what you need to know to walk away with the best deal.
Order in advance
Most swim spa manufacturers are based in the US, Canada, and Australia. So, be sure to account for up to a twelve week delivery time in case your exact model, colour, or specification of choice isn't in stock in the UK.
Tiled bespoke swim spas are made to order, so expect a similar kind of turnaround time on those, even though they're usually made in the UK.
Because they take up more warehouse space and aren't purchased as often as hot tubs, swim spas aren't kept in anywhere near as large numbers in stock in the UK. So, you should expect to receive your swim spa up to three months after you've ordered it.
This will give you plenty of time to prepare for the delivery and either have the base installed or – if you've opted for a built-in swim spa – have the necessary landscaping done.
Budget for the down payment
Dealerships typically ask for 25 to 30 percent of the cost of a swim spa upfront and the remaining balance a few days before it's delivered and installed, so be sure to budget for this.
If the dealership is handling the site preparation, electrical work, and landscaping in advance of the delivery you'll also usually pay this in stages in the weeks leading up to your swim spa's delivery.
If you're having this work done by third-party companies, you'll have to make separate arrangements with them.
Get the right warranty
Make sure the warranty you get on your swim spa covers both parts and labour. And be sure to check whether warranty calls are free or come with a call-out fee as well.
Getting a deal
A swim spa dealership will be as open to negotiation as a car dealership.
Steps, delivery, installation, and landscaping costs, spare filters, cover lifers, extra chemical supplies, optional exercise equipment, and an extended warranty are all good points to bargain over when you're negotiating a deal. You'll often slash the total cost if you can get everything you're after as a package deal.
You can also scoop up a bargain if you opt for an ex-display model or one from an outdated line the dealership is looking to shift. New models are always released between Christmas and April in advance of the summer rush, so it's a good idea to head to the retailers then on the off chance you'll be able to land a great deal.
Pay on a credit card
You should always buy a swim spa on a credit card.
That way if anything at all goes wrong with your purchase, you'll be protected under Section 75 – a UK consumer law that means your credit provider must take the same responsibility as the retailer if things go awry with any purchase over £100.
This is a simple way to get added peace of mind that you're not going to be left out of pocket if anything at all goes wrong with the purchase.
Preparing for the delivery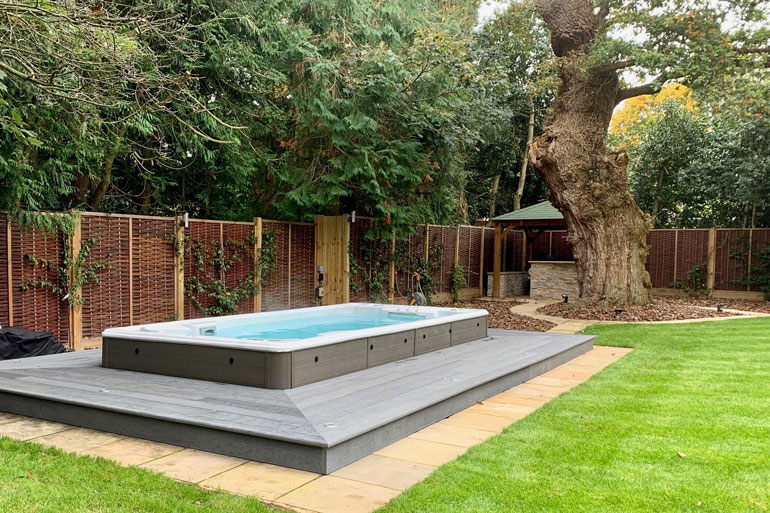 The only thing left to do is prepare for the delivery of your brand new swim spa.
The first thing to keep in mind is that, due to their size and weight, swim spas always need to be delivered by crane. So be sure to bear that in mind when you're making the arrangements for your swim spa installation.
Good retailers will give you a comprehensive pre-delivery guide that walks you through everything you need to know about preparing your new spa's base in advance and what electrical requirements it will need.
You can either handle all these preparations yourself or usually pay a bit extra to have the dealership take care of it all for you.
No matter which option you choose, a good dealership will arrange a site visit in advance of delivery day so they can plan the installation. It's a big red flag if a dealership doesn't offer this, so think twice about going with a retailer if they don't.
If you choose to organise a third-party crane company to lift your swim spa in place rather than going through the dealership, they should do a site visit as well to work out how to get your purchase onto your property safely and efficiently.
Once the site visit has been done and the preparations have been made to your property, all that's left to do is get the champagne on ice and look forward to enjoying your first soak in your new swim spa in style.
Keep all this advice in mind when you're shopping for your new swim spa and you'll be sure to get the perfect model for your and your family at the best possible price and enjoy the swim spa benefits for years to come.
Want help picking out the best swim spa for your unique needs? Get your free copy of the latest edition of WhatSwimSpa? today for more tips and tricks on getting a great model at a fair price and our shortlist of the best swim spas across every price range with the WhatSwimSpa? Best Buy Awards.