Swim Spa Installation Guide
Not sure where to start when it comes to creating our very own swim spa Shangri-la in your back garden?
Unless you're a swim spa aficionado, pool engineer, or landscape gardener, the prospect of installing a swim spa correctly and making sure it complements the rest of your property can be daunting.
Follow this simple step-by-step guide to make sure creating our very own swim spa Shangri-la foes as smoothly as possible, from the first step to the last.
Do your homework
First comes the fun part – picking your swim spa.
Before you do anything else, grab some string or tape to measure up the spot you have in mind for your shiny new swim spa. Then you can discount swim spas that will be too big at the start of your search, helping you narrow down your options from the off.
Follow the steps in our swim spa buying guide and the recommendation in your free copy of the latest WhatSwimSpa? magazine to find the perfect model for you.
Be sure to pay special attention to:
Finding a WhatSwimSpa? approved swim spa retailer that offers full delivery and installation (giving a wide berth to any supplier that only offers kerbside delivery).
Picking the perfect swim spa for your unique needs and tastes.
Taking a few of your favourites for a wet test.
Sticking to the five steps to getting the best deal on your swim spa of choice.
Pick the perfect position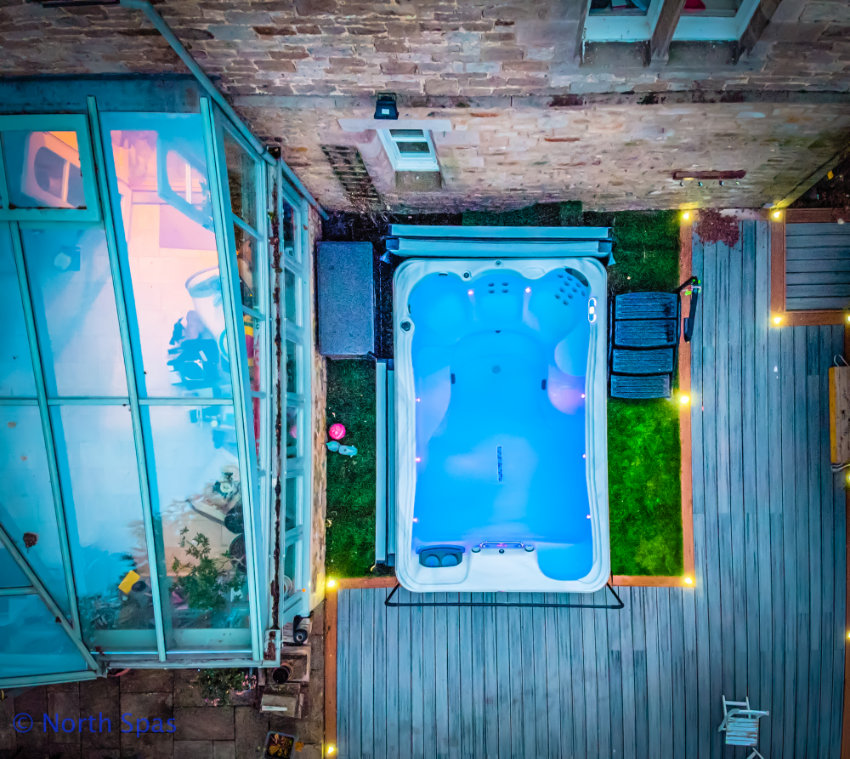 Just because you can slot a swim spa into a section of your garden doesn't mean you should.
Be sure to leave a gap of at least two feet between the sides of your swim spa and any surrounding walls so you can get in and out safely and comfortably. You should also make sure your swim spa is further than three metres away from any overhead power cables.
It's also well worth considering whether the spot you have in mind provides privacy from the neighbours. And if it doesn't, think about how feasible it would be to install some privacy screens or grow some plants to make the area more secluded.
How's the view from the plot you've picked out? Think about what you'll be looking out onto when you're soaking in your spa's hot tub section – and whether another location might provide more scenic surroundings.
It's also well worth considering the route you'll have to take from your house to the swim spa. The shorter the walk, the more likely you are to use it – especially in the depths of winter. Plus, a clean path from your back door to your swim spa's steps will mean grass, gravel, and soil won't get dragged into your swim spa on mucky feet.
If you have children, it's important for safety's sake that you can easily see your swim spa from the rest of the garden and your house.
And if you can help it, you should avoid placing your swim spa underneath a tree, or else you'll spend quite a bit of time scooping dead leaves and debris out of it.
It's also ideal if there's an outdoor tap and hose pipe within reach of your swim spa so it can be easily filled, as well as a nearby drain you can empty it out into when it comes time to give it a deep clean.
Plan your landscaping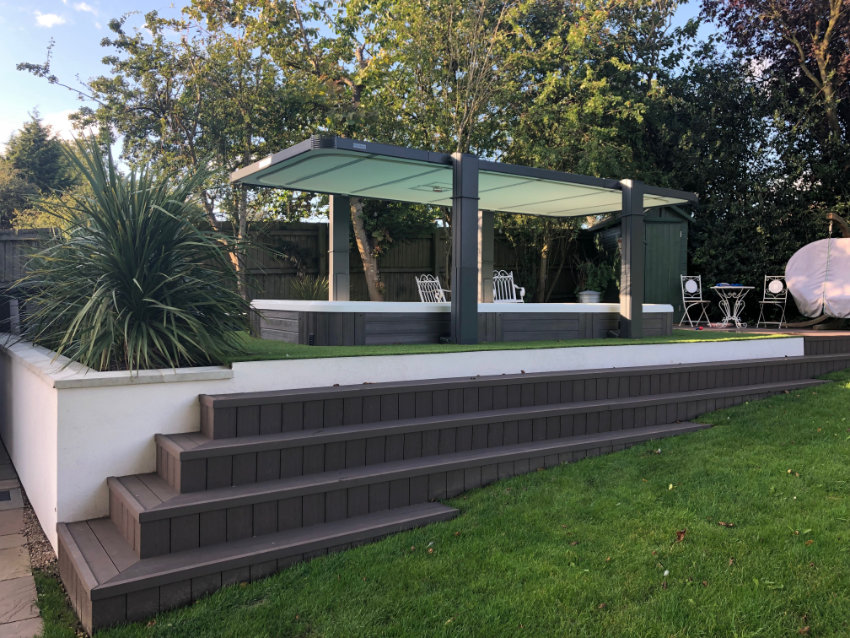 It's also important to keep in mind how your swim spa is going to change the look and feel of your garden at this stage.
Think about what you'll be using the space for. For example, you might tuck your swim spa out of the way if you only want to use it for serious training. You might make it the focal point of your outdoor space if you're planning on regularly entertaining people outdoors. And you might create a calming oasis around it if you see yourself relaxing in the hot tub at the end of every day.
Once you're clear on this, be sure to ask yourself:
Do you want the swim spa area hidden or visible?
How easy is it to get power to the area?
How easy will it be to drain the wet area?
How do you want to link the area in with the rest of the garden?
Will noise from the area cause a problem with neighbours?
Is lighting or rain protection required?
No matter what you want from your swim spa, there are a few common mistakes you should be sure to avoid when it comes to landscaping, including:
Avoid surrounding your swim spa with gravel or grass, or it's almost certain to get transferred into the water from your feet and cause potential problems with the jets and vents.
Avoid slippery or rough paving and instead opt for top-quality wood decking that doesn't splinter easily.
Avoid planting herbaceous or deciduous plants around your swim spa, or else you'll constantly be dragging the leaves they shed into the water.
Avoid colours, materials and styles that clash with the rest of your garden and make style choices that will link the area in with the wider space instead.
Avoid doing your own landscaping and hire a professional if you want a flawless finish that's going to transform the section of your garden with your swim spa into a stylish retreat.
Another landscaping decision you should make early doors is whether you'd like your swim spa sunken into the ground. This will require ground excavation, which will mean it will take longer and cost more to install your swim spa. However, it will lead to an incredibly stylish finish.
It's well worth asking your swim spa dealer to recommend a landscape gardener or architect. Not only will they be familiar with designing spaces with swim spas in mind, but if they have a good relationship with the retailer things are likely to go a lot more smoothly, meaning a lot less headaches for you.
Get the foundations in place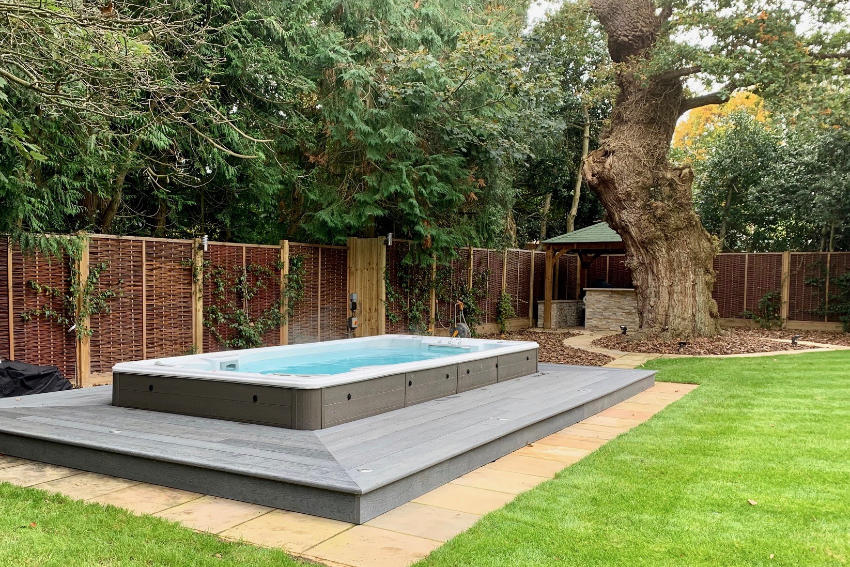 A swim spa can weigh up to ten tonnes at max capacity. So, it goes without saying that it's imperative you install it on a flat and sturdy foundation that's built to last.
Skip this vital step and you're putting your family in harm's way and risking damaging your swim spa.
If you opt to install your swim spa on a concrete base, make sure it's steel reinforced and at least four inches thick.
If you decide to place it on decking, the cross-members supporting the deck should be at least 6" x 2" and no more than 18" apart. The supporting upright posts should be at least 4" x 4" and concreted under the spa for extra stability.
If you choose to partially or fully sink your swim spa into the ground, you'll need a pit constructed with a concrete base and supportive block or brick side walls. It will also be essential to ensure there's adequate drainage in the pit for overspills, rain, and ground water to drain away – otherwise your spa might suffer flood damage.
Get wired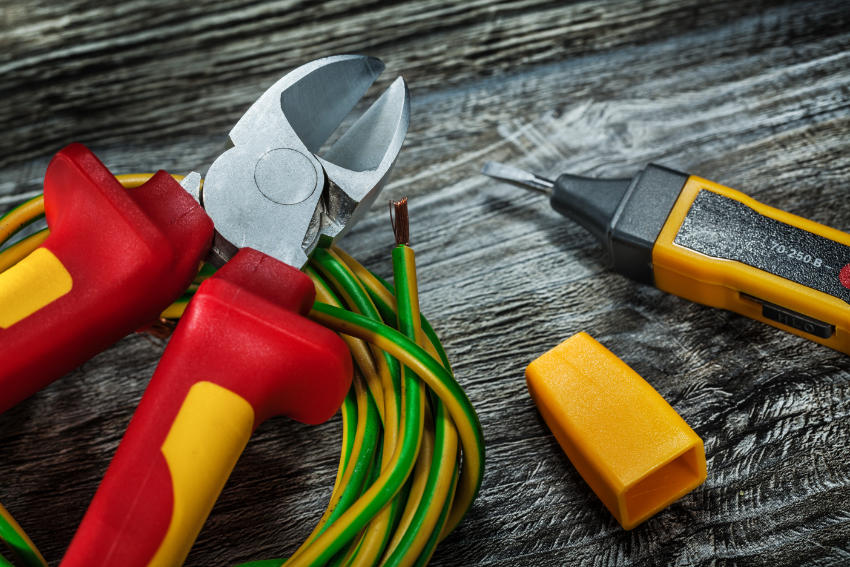 Your swim spa doesn't need to be hooked up to a permanent water supply, but it does need a suitable electrical supply to run the equipment.
Under the 'Part P' law introduced in January 2005, electrical work in UK households has to be carried out by a 'competent' person by law. So, make sure you have all your swim spa electrics done by a fully qualified and Part P-registered electrician.
Most WhatSwimSpa? approved swim spa showrooms will be able to recommend a trustworthy local electrical contractor who understands the ins-and-outs of installing a swim spa, so be sure to ask the supplier you go with for their recommendation.
An electrician that has seen it all before when it comes to fitting a swim spa is worth their weight in gold, as they'll need to meet a number of strict requirements to ensure your spa is up to code. Be sure to go with a sparkie that knows swim spas inside and out for peace of mind that it's going to be wired safely and to the letter of the law.
Once your swim spa is wired, filled, and working, your electrician will need to conduct a few tests to ensure it's Part P compliant. Then they'll issue you with a Part P certificate, which it's your legal responsibility to obtain.
The site survey
A WhatSwimSpa? recommended retailer will carry out a site survey at your home to walk you through everything you need to know for delivery day. They will also hold your hand throughout the whole process and work closely with landscapers and electricians to ensure the installation goes seamlessly.
It's a big red flag if a dealership doesn't offer a site survey, so think twice about going with any retailer that doesn't.
Even if you think installing your swim spa is going to be a simple operation, be sure to get your supplier out to conduct a site survey within seven days of your purchase, as you'll be entitled to a full refund if this reveals any unforeseen issues with the delivery process.
It's important to note that, because of their sheer size and weight, swim spas need to be lifted into position by a hydraulic HIAB mounted to the delivery truck or a separate crane. A site survey is an essential step in getting clear on which you'll need to go with so you can make the necessary arrangements.
Delivery day
A swim spa delivery is a complicated process that can be very costly to put right if anything goes wrong – which is why it's so crucial to pick a reputable dealership that's handled hundreds of deliveries before.
Bear in mind that swim spas are large, heavy, and bulky items. If the spot you're having your spa installed is easily accessible fmr the street then your dealer might just need to park the truck up and HIAB it into position – no crane needed.
However, more often than not you will need to organise a crane delivery. If that's the case, you can either opt for a contract lift or a crane hire.
Opt for a contract lift and the crane company will be responsible for everything, including writing method statements and risk assessments, liaising with transport authorities for road closures, and providing a banksman and insurance cover.
A crane hire is considerably cheaper, but leaves you responsible (and liable) for the legal side of things.
We always recommend you opt for contract hire from a reputable local crane hire company, as the money you'll save isn't worth the risk if something goes wrong – not to mention the hassle of getting all the right paperwork in place.
The final steps
Once your swim spa is delivered, installed, filled with water, and wired up to the electrical supply, the installation team will check that everything is fully operational before 'handing over' to you by walking you through how all your new swim spa's features work.
Reputable dealers will fill your swim spa up for you and ensure the water is safe and balanced with the right water care products. They'll also provide you with information about testing and maintaining the water quality and lead you through the process of balancing its pH levels before leaving you alone to enjoy your new swim spa.
Then all that's left to do is get the champagne on ice and look forward to taking your brand new swim spa for a spin.
Stick to these steps to ensure your swim spa installation goes swimmingly and any costly mistakes are completely avoided.
Want help finding the best swim spa for you and your family? Get your free copy of the latest edition of WhatSwimSpa? today for expert advice on getting a great model at a fair price and our shortlist of the best swim spas across every price range with the WhatSwimSpa? Best Buy Awards.